A gorgeous deck can do wonders for even the shabbiest St. Louis home. However, a worn, damaged deck can have the opposite effect, significantly reducing your residence's curbside appeal. Rapid Repair Pro offers high-quality deck repair and construction services that will make your residential deck as good as new again in a few hours or less.
Rapid Repair Pro is one of St. Louis, MO's leading deck repair and construction companies. We specialize in installing, repairing, and maintaining decks across the greater St. Louis area, making us your one-stop shop for all your residential deck needs. If you need professional deck repair or want to install a beautiful deck on your property, contact the experts at Rapid Repair Pro.
High-quality Deck Repair and Installation Services in St. Louis, MO
Decks are prone to numerous issues, ranging from broken boards to discoloration. These issues often worsen if you don't address them swiftly, adversely affecting the deck's appearance, structural integrity, lifespan, and more. The deck contractors at Rapid Repair Pro can breathe new life into your dilapidated deck at a price that won't break the bank.
Rapid Repair Pro's professional deck repair service makes loose boards and rotting panels a thing of the past. Our team utilizes best-in-class tools and supplies to repair or replace your deck, ensuring you receive a high-quality lounge area that withstands the test of time. We have extensive experience with all the leading decking materials, including, but not limited to:
Western red cedar
Teak
Mahogany
Various hardwoods
Composite decking
We also offer a one-year workmanship warranty on all our deck construction and repair projects, giving you peace of mind that your deck is in good hands.
From western red cedar decks to composite decking, Rapid Repair Pro can handle all your deck construction and repair needs.
What Does Professional Deck Repair Include?
Efficient deck repair involves numerous tasks that improve the deck's visual appeal, durability, and longevity. Below are just a few services you can expect from Rapid Repair Pro's professional deck repair.
Deck Refinishing
Refinishing enhances a deck's allure by giving the surface a deep clean and a fresh stain. The process revives your deck's original color or improves its appearance with a new look. The Rapid Repair Pro team will work with you to find the best finish for your deck.
Repair or Replace Deck Railings
Deck railings prevent people from falling off the deck and injuring themselves. If your deck doesn't have high-quality railings, your guests and family members are more vulnerable to dangerous slips and injuries. Rapid Repair Pro upgrades your deck's railings with first-class guard rails that increase the deck's appeal while keeping your loved ones safe and secure.
Foundation and Structural Repair
Your deck's foundation is one of the most important aspects of its structure. A broken or weak foundation can cause the deck to give out prematurely or collapse. Our deck repair specialists fix weak points within your deck, increasing its durability and lifespan.
Our team uses high-quality materials to ensure your deck can withstand nearly anything mother nature throws its way. Our repair services ensure your deck can withstand the natural elements, heavy foot traffic, and more, giving you a high-quality outdoor space you can enjoy for years.
Re-decking
Like most things, residential decks don't last forever. The baseboards often deteriorate over time, creating safety hazards while diminishing the deck's overall appeal. Rapid Repair Pro's re-decking service replaces old and fragile boards marring your deck's surface, enhancing its durability, longevity, and appearance.
The Rapid Repair Pro team will assess your deck and help you determine the best repair or replacement service without surpassing your budget. Our team understands the best approach to each deck repair and construction project and will keep you informed throughout the process.
Whether you're looking to upgrade your deck's railing or need professional re-decking service, Rapid Repair Pro is here for you.
Why Choose Rapid Repair Pro for Deck Repair and Construction Services?
At Rapid Repair Pro, customer satisfaction is our top priority. We strive to provide the best deck repair, replacement, and maintenance services across the greater St. Louis area at fair and affordable prices. Below are just a few reasons why you should contact Rapid Repair Pro for all your deck repair needs.
Transparent Technicians
Our team remains transparent throughout the deck repair process to ensure you stay up to date with our services. We keep you informed and provide honest suggestions that help your deck reach its full potential.
Affordability
Many St. Louis residents have trouble trusting deck repair and construction companies because of high prices and hidden fees. At Rapid Repair Pro, we do our best to stay within your budget and provide premium services without the premium rates. We don't have surprise fees and always provide accurate estimates before starting a project.
If the project requires additional supplies, we inform you and find the best solution that doesn't drastically heighten your bill.
Skilled and Experienced Technicians
Every member of the Rapid Repair Pro team receives high-quality training to ensure they can handle any deck repair or replacement task they face. They also undergo extensive background checks and receive frequent drug tests to guarantee optimal workmanship and professionalism. Our team boasts some of the best deck contractors in St. Louis and can build the deck of your dreams at a price that won't break the bank.
Contact Rapid Repair Pro for Professional Deck Repair and Construction Services in St. Louis, MO
If you need professional deck repair in St. Louis, MO, or the surrounding area, contact Rapid Repair Pro. We can transform your mediocre deck into a beautiful outdoor space that takes your home's allure to the next level. We also offer high-quality deck maintenance services that ensure your deck remains pristine throughout the year.
We've helped hundreds of St. Louis residents repair their decks, and we can do the same for you. 
Give Rapid Repair Pro a call at (800) 741-6056 to schedule your appointment today!
Recent Deck Construction Projects
Aging in place is a desire shared by many seniors in St. Louis who wish to maintain their independence and continue living in their own
Read More »
Deck Construction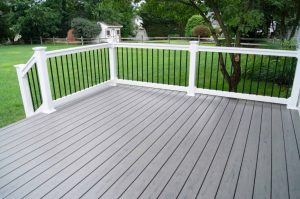 Hire our handymen for deck construction today. We offer high-quality, professional-grade decking repair and construction. Satisfaction guaranteed.
Service Type: Deck Construction